The Most A-maze-ing Farm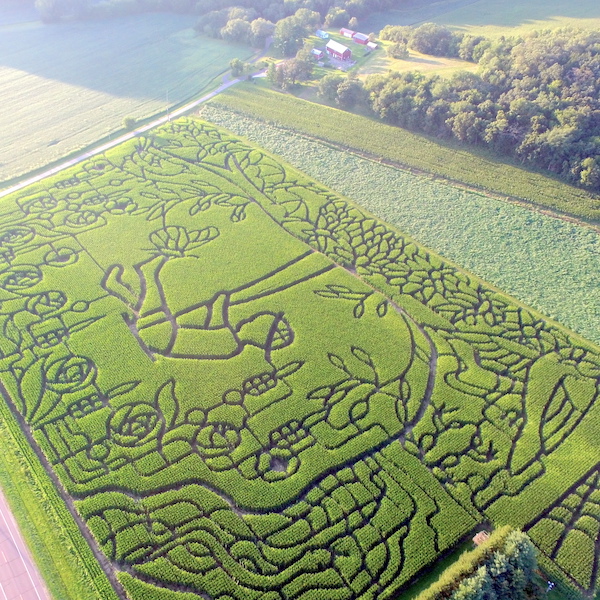 The Treinen Farms corn maze is a famous and beloved attraction for those in the Lodi area. As a great place to spend time during the fall, it's popular among both adults and children. Every year, the Treinen family creates an elaborate maze and even a puzzle maze inside of the maze! Creating the maze can take weeks or months of work, but it isn't without its rewards. "The thing I like most is how we are able to talk to customers and get to know them, and to find out the things they like and how we can create a really nice experience for them." Angie Treinen said about the maze and the farm. During the 2021 year, the maze was Schrodinger's cat, a cat which may or may not be inside of its box. 
This year, the maze celebrates the connection between us and the earth with biophilia, the love of the earth and nature. Environmental issues have affected nature, and in turn affected us. So, Angie Treinen designed a maze with animals, trees, and life in mind. I try to find a maze theme that is beautiful, recognizable from an aerial photo, makes a good maze, and is interesting to talk about. "I love to try to engage people of all ages with stories and ideas," said Angie . Inspired by the Glasgow style, she spent months working on the maze. Now the maze is finished, and it is certainly going to be an entertaining experience. 
As well as the maze, there are other fun activities to do at Treinen Farms. Within easy walking distance of the main buildings, there are three pumpkin patches. With 18 acres of pumpkin patches and fifteen different varieties, there are plenty to choose from. They have tables set up nearby if you would like to carve your pumpkin as soon as you find the perfect one. There are also plenty of activities for you and your children or siblings, including Molehill Mountain, the tractor tire playground, the natural playground, and plenty of others. There are also some hikes around the farm for those who want to take a walk through nature. From Over the Hill and Dale and into the Enchanted Woods, they have beautiful hiking paths. From the corn maze to the farm animals and hiking trails, the Treinen Farms have something for everyone to enjoy, and it's a perfect place to spend a day during the fall. 
The Treinen farms have been around for years, with different mazes taking place every year. Since the first corn maze, the Trienens have added new events to the farm every year, and they have all been well received and loved. "We started with a pumpkin patch in 1991, and around 1999 we tried to think of more fall activities that we could add. We thought we could charge a little more and that perhaps adults and older kids would enjoy the challenge — which they do! " Angie said about the Treinen farms. 
Being open from September to November, it is a perfect place to spend a nice fall day. With its corn maze and fun activities, it's no wonder many spend their free time wandering the farm.