Spring into Sports Season
As spring comes around not only do the flowers bloom but also new players come into the spotlight. It is important to support the new sports that come as the seasons change. This spring we see our Lodi softball, baseball, girl's soccer, golf, and track and field teams start to kick off their seasons. Each year brings around new players and shows the growth of former players, people who notice these changes in players tend to be coaches, tea captains, and seniors. We asked seniors and team captains a variety of questions all based on how the team and season are going so far and what they would like to see.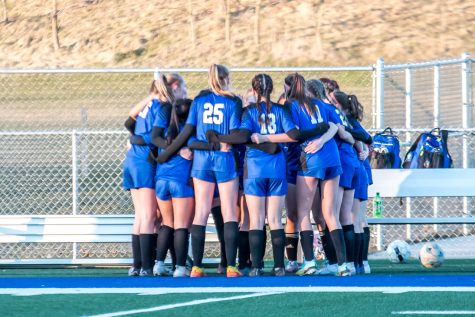 The green turf underneath their feet and the sound of the soccer ball gliding across the field, all sound like the brewing of a good soccer game. Honorable mention to our seniors on the girl's soccer team: Kaelyn Tatro, Caroline Karls, Abby Haas, and Rachel Winters. We asked Rachel Winters how she thinks the teams are coming along so far this season and she said,
"I think the teams are coming along great so far. We have a nice bunch of incoming freshmen and new players, which can be difficult in a team sport like soccer where understanding each other's style of play is really important." 
Along with that, they have been working well in their games so far and they think they will improve even more throughout the season. Rachel left us with this quote as a preview for their season,  "I think the school should know that this year's team is coming out strong and hungry for some victories."
This season's Baseball team is off to a good start, "We've had four games so far and were 3 in 1, so playing pretty good." reports Mason Lane one of the captains of the baseball team. Lodi's baseball seniors are Owen Breunig, Keegan Fleishman, and Bennet Rasmussen. We asked Mason what the team's goals were for the season, and he replied by saying,
"Definitely want to win the conference and go as far as we can in the playoffs." As a student section go and cheer on the baseball team and hopefully motivate them in order for them to make their goal of getting to the playoffs. 
Running from base to base with the stadium lights shining on them, and already starting off the season with a win against Lake Mills, this year's softball team gears up for a new season. We asked Mackenzie Christofferson and Taylor Thayer how they think the season is going so far,
 "So far I believe the team is coming along great. From day one to now we have improved a lot and are settling in well. We are the start of turning the softball program around and we are excited to show it." says Mackenzie.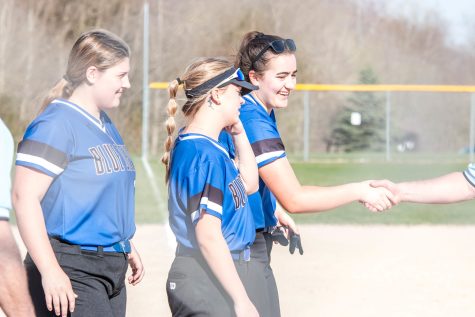 "I think the teams are going really well and we all get along well with the girls and the girls know how to have fun, but we also know how to work together as a team," replied Taylor. This season's seniors include Sam Edge, Mackenzie, and Taylor. Also, a common goal they have for this season is to have a longer conference-winning streak and a possibility of making it to the playoffs. Something Taylor would like to bring to the school's attention the softball team is the work they do with the softball youth groups. "We work a lot with the youth girls…help them learn stuff and get better and really just get to know us and then next Saturday(4/22) we're signing posters for them and stuff so we definitely do a lot with the younger girls to help them get better and just to get to know them and have them know us."
Golf is off to a strong start, says Nick Hoffman, one of the seniors from the golf team also including Brooke Bacon. We asked Nick what he hopes to see this season from the golf player. "Individually, everyone in golf has different goals. Whether it's that they want to score lower or beat a different team. Something that we have done well in though is being able to score low as a team."
When you sign up for a sport you might not know all you are signing up for, something Nick thinks the school should know about the gold team is, "If you go out for the golf team, that doesn't mean you have to be in tournaments. You can join the golf team just to go out after school and play a round of golf with friends for free. If you feel the need or desire to play in a tournament, then by all means you can play in some qualifying rounds."
Whether it be on the track, in field events, or they are throwing, Track is made up of one big, happy, diverse family. This year's Track and Field seniors are Lily Strong, Lexi Meek, Lilly Callahan, Brody Roessler, and Paul Lins. We asked Lily what she thinks the rest of the school should know about track and she said, 
"And I think the other kids at school should know that we are a very tight and loving group. I think everyone should try track at least their freshman year just because it's so laid back and their options for events." Something unique about track is that the amount of events is almost endless, with each one being similar or very different compared to other events and it all depends on the player. A track tradition Lodi has is gathering on the side of the track to cheer on the participants of the 4×4, which is a great time for good old-fashioned team bonding.
"Anyone can do it if they put their mind to it." is how Lily views trying out for track which is very feasible and could be something that other athletes or students should consider doing.
In conclusion, each season new teams are formed with the addition of new players and the absence of others, making these teams and bonding with each one is a lot of work. These teams should be supported, so come witness these spring teams own the field and support your local Lodi sports department.