The Most A-maze-ing Farm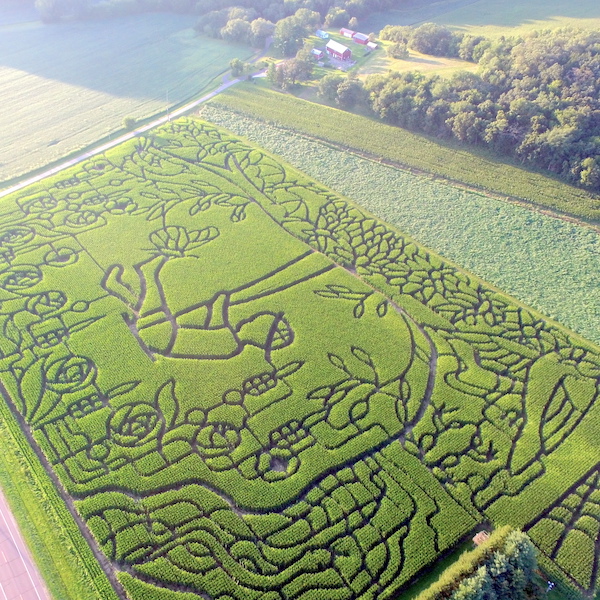 The Treinen Farms corn maze is a cherished and famous attraction in the Lodi area, drawing both adults and children during the fall season. Each year, the Treinen family creates an intricate maze, including a puzzle maze within the main one, which can take weeks or even months of work. The effort is rewarding, as it allows the family to connect with customers and create a wonderful experience for them. Angie Treinen, one of the farm's owners, expressed her love for engaging people of all ages with stories and ideas.
For the 2022 season, the maze celebrates the connection between humanity and the earth through biophilia, the love of nature. Inspired by the Glasgow style, Angie dedicated months to crafting the maze, making it visually stunning, intriguing, and filled with elements of nature, animals, and life.
Alongside the maze, there are plenty of enjoyable activities at Treinen Farms. They offer three pumpkin patches with 18 acres of land and fifteen different pumpkin varieties. Visitors can also carve their pumpkins at nearby tables after finding the perfect one. Other attractions include Molehill Mountain, a tractor tire playground, a natural playground, and various hikes around the farm, such as Over the Hill and Dale and into the Enchanted Woods.
The tradition of the Treinen Farms has been ongoing for years, with different maze themes each season and new events added annually. It all started with a pumpkin patch in 1991, and since then, the Treinens have introduced various fall activities, including the corn maze, which has been well-received and loved by visitors of all ages.
From September to November, Treinen Farms offers a perfect destination for spending a delightful fall day. With its corn maze, exciting activities, and scenic hikes, it has become a beloved place for many to enjoy during the autumn season.