Senioritis: The Laziness Becomes Deadly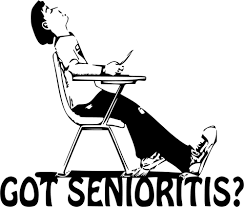 We all know that senioritis is a nasty disease that affects poor defenseless high school seniors everywhere. No one is safe from this sometimes debilitating infection. It starts on September 1st and gets progressively worse as the years go on. By the 4th quarter, the sickness is at its worst, and most seniors tap out at this point. If no one is safe, then how do we avoid this malicious illness?
First, we need to diagnose the gravity and seriousness of the disease in every person. We can use a scale of 1–10 to see how bad it is during the 4th quarter blues. "My senioritis is at about a 6 on the scale because there is only about 1 more month left and I can't wait for summer/college." Senior/victim Nick Hoffman states. He clearly has a mild case of the disease and is still able to live his life normally. "10." Senior/victim Caroline Karls rates her senioritis. This is a classic case of the worst of the disease and what it can do to an amazing student. "I would say my senioritis is at a solid 5 because, although I feel very unmotivated to complete my work, I still do it. It just takes me some time to muster the effort to actually get it done." Senior/victim Rachel Winters says. She is the best of us; the disease infects her, but she doesn't let it stop her from achieving her academic dreams. We love you, Rachel.
Next, we need to know the contributing factors of this condition. "Just the fact that I am accepted into college and have future plans in place, regardless of how this last semester ends up, contributes most to my senioritis." Rachel Winters says. Future plans are a huge contributor to senioritis since you want to live them, but you're still stuck in your same life. "The school itself." Caroline Karls talks about her contributing factor. Sometimes your own environment suffocates you, especially after four years in the same place. Many things can contribute to senioritis and make it even more debilitating.
After diagnosing and discussing factors of the illness, we should talk about the cure. The only cure for this epidemic is leaving. When you finally graduate and leave behind the last four years and the people who made it better or worse. Obviously, these seniors are excited to be cured, but for what specifically? "I am probably most excited about the change in lifestyle with more independence." Rachel Winters states. Going along with her contributing factors, Rachel wants to leave high school behind. "Never having to go to LHS again." Caroline Karls says. This is the most valid response, and one that you would get the most  if you asked any seniors. "I am most excited about being out of school early and being able to go on vacation for graduation." Nick Hoffman states. Wow, lucky duck! After his year-long battle, he gets to go on a little vacation to embrace and celebrate being cured. We now know the method to cure this disease and what it means to all of these victims.
Lastly, these now-cured seniors will have fulfilling lives after these four years. I bet everyone is curious what they will do now that the disease doesn't tie them down anymore. "After high school, I plan on going to UW-Madison and double majoring in chemistry and biology while playing soccer and golf for fun activities." Nick Hoffman says. He will have an amazing next four years being smart. "Stuff," Caroline Karls states. The mystery and excitement of the future for this cured individual. "I am going to Carroll University to major in nursing." Rachel Winters says. From helping her friends with their homework to helping save lives. 
All cured seniors will have amazing lives, and we wish them all the best as they live senioritis-free. Now for the juniors… Senioritis will come for you sometime during your last year here at LHS. It's inevitable, but you must remember that it will eventually be cured. All you can do to prepare is remember that you can't let it define you and stop you from getting your dream grades. Good luck, and may your senior year go by quickly.